We are excited to share this day with you. We have a special challenge and blog hop for you today. The royal court has put together a nice birthday blog hop for QKD and we would like to share it with you. Below is the hop order and below that is the challenge for today.
Whole hop order:
QKD Blog - here
Vicki
Melia
Shannon
Chris
Penny
Nina
Lara
Jules
Valerie
Jenn
Jan
We are celebrating our birthday KAT style! Today we have a yummy kitty challenge for you! We need cake for our birthday, don't we?? What's a birthday party without some sweet chocolate cake with cream cheese icing? OH MY! Now that I'm craving cake, lets make one!

Make a card or ATC using some kind of cake or cupcake image... and add some glitter somewhere on the cake! the card must have at least 3 layers of paper or cardstock. The rest is up to you.

Check out what the Royal Court has made for this challenge..

For this challenge, I made a birthday card and a gift bag to match.
From Shar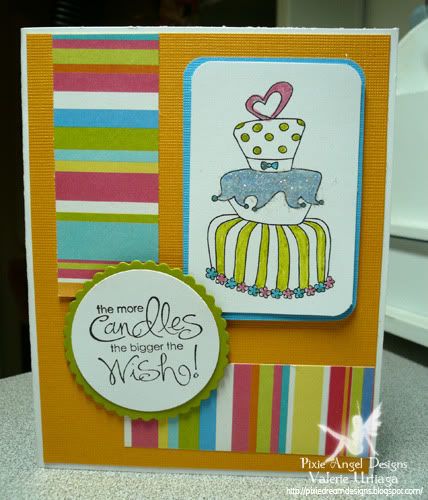 From Valerie
From Penny
From Nina
Photograph your image and blog about it.. use the inlinkz widget on the right hand side of our blog here to link us to your blog post and creation. There must be a blog post to accompany your submission and it must mention this challenge.

Each link to a different project will be entered once into the grand prize drawing to be held on Monday November 22.

The grand prize will be a $50 stamp gift certificate to the Queen Kat Designs online shop.
All entries into our challenges for this celebration will be entered into the one inlinkz widget and will compete for the grand prize.

You may enter more than 1 time for this first challenge. You may make 1 of each of the listed projects above if you wish to do so.

Entries for this challenge are due Monday November 22nd by 10 am MST.

Come back tomorrow for the next challenge in our 4th birthday celebration.